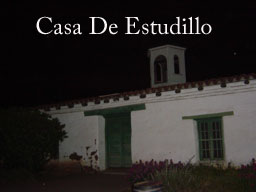 Ghost Stories | Our Review | Photographs | Official Site

About La Casa de Estudillo

The Casa de Estudillo was completed in 1829 by comander of the presidio of San Diego, Captain Jose Maria de Estudillo. He only lived in the house for a year before he died, and the house passed on to his son, Jose Antonio Estudillo. He served in many positions under Mexican and then Spanish rule. His family lived there until 1887. It was restored in 1910 and donated to the state. The house is currently operated as a museum.
Ghost Stories


Employees have reported seeing faces appear in mirrors when there was no one else in the room. There are reports of shadow apparitions, cold spots, and flashing red lights in some of the rooms, and the apparition of a monk has been seen near the room which served as a chapel. The ghosts of La Casa de Estudillo have also played music with no discrenable source.
Our Review



He Says: A fairly well done museum of its type. Seems to have a lot more going on and more accessability than the similar Olivas Adobe in Ventura, Ca. We were unable to interview any of the employees of the museum on our visit as their was a school group touring the house while we were there. Although, there are a fair amount of mirrors in the house as well as numerous pianos (although I do not know if they are functional) which could account for the stories of the ghosts playing music.

Previous Haunted Place | Haunted Places List | Next Haunted Place