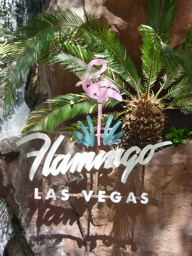 Ghost Stories | Our Review | Photographs | Official Site

About Flamingo Las Vegas

The original Flamingo Hotel was started in 1945 by Billy Wilkerson. He owned the Hollywood Reporter as well as several night clubs in Las Angeles. As the story goes, Mr. Wilkerson was addicted to gambling and would make frequent trips to Las Vegas where he would lose... a lot. His wife suggested to him that he should make his own hotel/casino

so that he could lose to himself. He purchesed land in Las Vegas and hired George Vernon Russell to design him a hotel. The high cost of finding building materials during World War II quickly left Wilkerson in deep financial trouble. Wilkerson was soon "pursuaded" to take on partners in his venture by Benjamin "Bugsy" Siegel the famed mobster of Murder, Inc. Bugsy had no experience in designing a hotel so costs continued to mount. The hotel finally opened the day after Christmas in 1946.
The hotel was named after Bugsy's nickname for his girlfriend, Virginia Hill. According to the tour guid on the Haunted Vegas Tour this was due to her having died her hair red. According to Wikipedia, Ms. Hill earned this nickname because of... well... other reasons.
When the mob bosses back east discovered that Bugsy had been skimming off the top, allegedly because of a tip by Virginia Hill who was a mob informant, his death was ordered. Despite the bullet proof glass and

protective measures he had built into his Las Vegas apartment at the Flamingo. His assassins smartly took him out while he was visiting Las Angeles in a far less fortress-like atmosphere.
The hotel changed hands a few times before being sold to the Hilton company. The las remnants of the original hotel was torn down in 1993 and replaced with the lavish gardens that include the wedding chapel and a memorial to Bugsy Siegel.
Ghost Stories


The ghost stories revolve around "Bugsy" Siegel of course, and he is said to haunt two locations on the property. His ghost has been seen in the "Bugsy" or Presidential suite which supposedly has the gold faucets and bathroom fixtures of his apartment from the old hotel. The other location is in the gardens near his memorial and the wedding chapel where his old apartment is said to have been located.
Our Review




He Says:
I have never actually stayed at the Flamingo, but have eaten at the buffet before. The garden behind the hotel was a very nice

experience. Our tour guide, Jac Hayden, called it "the jungle." Did notice an odd wildlife sign that labeled a water turtle with the scientific name aix sponsa, which is actually the scientific name for a wood duck. I wonder how long that has been there. (there is a sign for wood duck that has the proper name.) Why do we know the scientific name for wood duck you ask? Geocaching.
She Says:
Hidden behind the hotel is a quaint little garden of various birds, fish and turtles. I did find it rather interesting that the wood duck and the turtle signs both were referred to as Aix Sponsa (Scientific name for "Wood Duck"), but I looked, I couldn't find one singular wood duck anywhere...lots of turtles, and other ducks... but no wood ducks.

Previous Haunted Place | Haunted Places List | Next Haunted Place