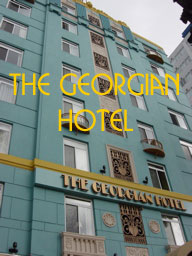 Ghost Stories | Our Review | Photographs | Official Site

About The Georgian Hotel
Originally named the Lady Windemere, the hotel that would become the Georgian Hotel was built in 1933. The hotel catered to the rich, famous, and imfamous of the area as a way to escape the Los Angeles and Hollywood. At the time it was surrounded by forests and not much else in the sleepy community of Santa Monica. Celebrities such as Clark Gable and Bugsy Seagel visited the hotel and its speakeasy during the prohibition era. Now, of course, it is surrouonded by other hotels, shops, and tourist attractions in the city of Santa Monica, and the speakeasy is now the hotels restaurant.
The ghosts of this hotel are supposed to inhabit the Speakeasy restaurant where Bugsy Seagel visited. The ghosts here manifest as odd noises, barely audible speaking, and sighing.
The only odd voices I head on our stay was through the hotels old heating system in the bathroom. It souned like the people staying in the room next to ours.
This hotel was great. We did not spend as much time here as we would have liked. Our room (612) was a little on the small side compared to most modern luxury hotels, but it was still very nice. The hotel also provides free wireless internet access. Room service was extremely reasonable for breakfast--which was excellent by the way. I definately hope to stay at this hotel again.

Previous Haunted Place | Haunted Places List | Next Haunted Place