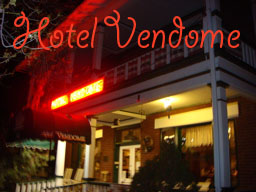 Ghost Stories | Our Review | Photographs | Official Site

Hotel Vendome

The Hotel Vendome is a small hotel in the town of Prescott, Arizona. It was built in 1917. It is situated very close to Prescott's "Famous Whiskey Row."
Room 16 is haunted by the ghosts of Abby Byr and her cat. The story goes that Abby Byr, her husband, and her cat, Noble, were allowed to stay in the room 16 of the hotel for free (or were simply guests at the hotel). After her husband left her there, Abby and Noble both died of starvation in 1921. In some stories on the web Abby is a former owner of the hotel. Regardless, the room is now decorated with the gifts that guests staying at the hotel leave for Abby and Noble. According to the manager who was on duty when we arrived, some guests even send their gifts to the room in advance of their stay so that it is waiting in the room when they arrive.
The Hotel Vendome was a nice small historic hotel. The manager was nice enough to let us explore room 16 because no one was staying in it. There were a lot of cat themed nic-nacks, but no ghostly activity. My wife did have the sensation of smelling perfume near the room, and the following morning swore that she smelled tomato soup coming from the room, but that was it.

Previous Haunted Place | Haunted Places List | Next Haunted Place