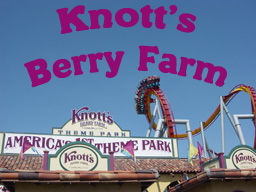 Ghost Stories | Our Review | Photographs | Official Site

About Knott's Berry Farm

Starting in the 1920s Walter Knott and his family sold berries from a small stand on California State Highway 39. He was the first person to successfully cultivate the Boysenberry developed by Rudolf Boysen. Starting in 1934 Knott's wife, Cordelia, began serving fried chicken dinners and boysenberry pie for dessert.

Their location alongside a major north-south thoroughfare became a popular rest stop. In a few short years the restaurant became so popular the wait for a table lengthened to several hours. In an effort to entertain his waiting guests, Walter Knott built a ghost town by transplanting buildings from Calico California and Prescott Arizona. Eventually, Knott started adding attractions such as a train ride and a mine ride.
In 1968 the family built a fence around the attractions and began to charge admission. Knott's Berry Farm currently claims to be the world's first theme park.
In 1997 the Knott family sold the amusement park to Cedar Fair (owners and operators of Cedar Point amusement park in Sandusky Ohio) There has been a shift since then to more thrill rides and rollercoasters, but the park still has plenty of connection to the past. There still is a fired chicken dinner restaurant and a ghost town.
Ghost Stories



Strange noises and eerie feelings have been described by employees of the Peanuts Playhouse in

camp snoopy. It has also been reported that lights turn themselves on and off with no one else present. The old Dinosaur Ride (which was in the area now occupied roughly by the Johnny Rockets in Boardwalk) was also said to be haunted by a former maintanance employee and a young boy. We have not uncovered any reports of those hauntings continuing now that the ride has been torn down. The upstairs of Virginia's Gift Shop on the exterior of the park is said to be haunted as is the Bird Cage Theater and Mrs. Knott's Chicken Dinner Restaurant. The lady that was working in the Teddy Bear store told a story about the building when it was still the old Print Shop (when

we were there you could still see the faded word print underneath the word shop on the sign to the Teddy Bear store). Apparantly there were stamps (not the kind you mail) on display on shelves on the wall and for no apparent reason some of them started falling off of the shelves.
Our Review




He Says:
I miss the Haunted Shack that had to be removed. Apparently the old management company did not do a very good job maintaning the park, and the Haunted Shack was in such a state of disrepair when Cedar Fair purchased the park that they could not refurbish it without having to comply with the Americans with Disabilities Act which would have ruined the optical illusions that made the attrtaction what it was, so it was removed. The coin artist was very neat, and informative about the history of the park. If he is still there, I highly recommend you spend some time viewing his wares and watching him work at his shop/store in Ghost Town. The rollercoasters here are also very good, but I miss some of the simpler older rides that have been removed and replaced such as the old Soap Box Racer ride.
She Says:
By this time, I was pretty much burnt out at the end of our vacation. I don't recall having ever been to Knott's before, so I cannot compare old vs. new, but I did enjoy some of the more natural scenery as well as talking to the man at the coin-carving booth. Considering that I tend towards motion sickness, I stuck to the ground, with the exception of Montezuma's Revenge. It is almost identical to Great America's Tidal Wave ( Now gone :( .) I felt I had to ride it for old time's sake.

And don't forget... The candy shops had chocolate covered boysenberry truffles!!!
Yummm... Suuuugaaaarrrrr....
Now that Cedar Fair owns both Knott's and Great America, I am hoping for both parks to have a true revitalization and many Great years to come...

Previous Haunted Place | Haunted Places List | Next Haunted Place