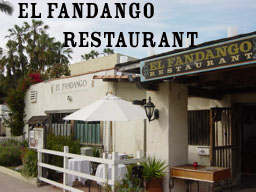 Ghost Stories | Our Review | Photographs | Official Site

About El Fandango Restaurant

Although the building that houses the El Fandango Restaurant was only recently constructed, the land on which it sits has a rich history. Part of Old Town, it is the oldest settled area in San Diego. The restaurant was built on the sight the Machado family mansion which burned to the ground in 1858. The extensive story of the Machado family can be found on the San Diego Historical Society website. Other various buildings and establishments occupied the sight in the years between the mansion's collapse and restaurant's establishment.
The ghost of El Fandango is said to manifest as a woman dressed in white victorian era clothing.
The haunting has been docmented in a local newspaper article that is displayed in the restaurant. According the article, Marcos Mouet arrived around 4 in the morning to prepare for the restaraunts opening a few hours later. He saw a woman dressed in white sitting at a table in the dining room. She appeared to be hazy and cloudlike. A photo of the article displayed in the restaurant is available on our photographs page.
We have been the this restaurant a two times on our frequent trips to San Diego, and while we have never seen a ghost, we have had a pleasant dining experience. It is good Mexican food at a reasonable price. We have never sat in the dining room, both times we have eaten at El Fandango we were sat on the patio.

Previous Haunted Place | Next Haunted Place | Next Haunted Place