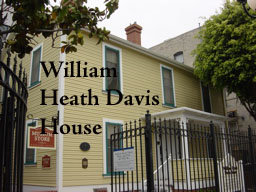 Ghost Stories | Our Review | Photographs | Official Site

William Heath Davis House

The William Heath Davis House is the oldest surviving stucture in Downtown San Diego (New Town). He never actually lived in the house that now bears his name, but it is the same age and style of his house that was located at State and F streets. The current structure was moved to it curretn location at 410 Island Avenue from State and Market streets. Both homes were prefabricated on the east coast, shipped around Cape Horn and assembled in San Diego. This style of home dubbed "saltbox" was common in New Town. Alonzo Horton (the father of modern San Diego) and his wife, Sarah, lived in this home for a brief time while their own home was being constructed. More information on William Heath Davis can be found on the San Diego Historical Society website. The house is located near the Horton Grand Hotel and the Gaslamp district.
Ghost Stories



Employees of the William Heath Davis House reported the following odd occurances. A lady has been seen on the second floor landing of the home. the gold ropes used to keep visitors out of certain rooms have become unlatched with no one around. They have a picture that shows some odd mist in the background that was not present when the picture was taken. The old style gas lamps in the building would turn on.
Our Review




The William Heath Davis House is a typical small historical house. The rooms are well decorated, and the self guided tour is interesting. The emplyoees made the visit for us with their willingness to talk with us about the history of the house and the history of San Diego.

Previous Haunted Place | Haunted Places List | Next Haunted Place